Time flies: another year is over! It's time to look back at what 2022 has brought for Compiuta.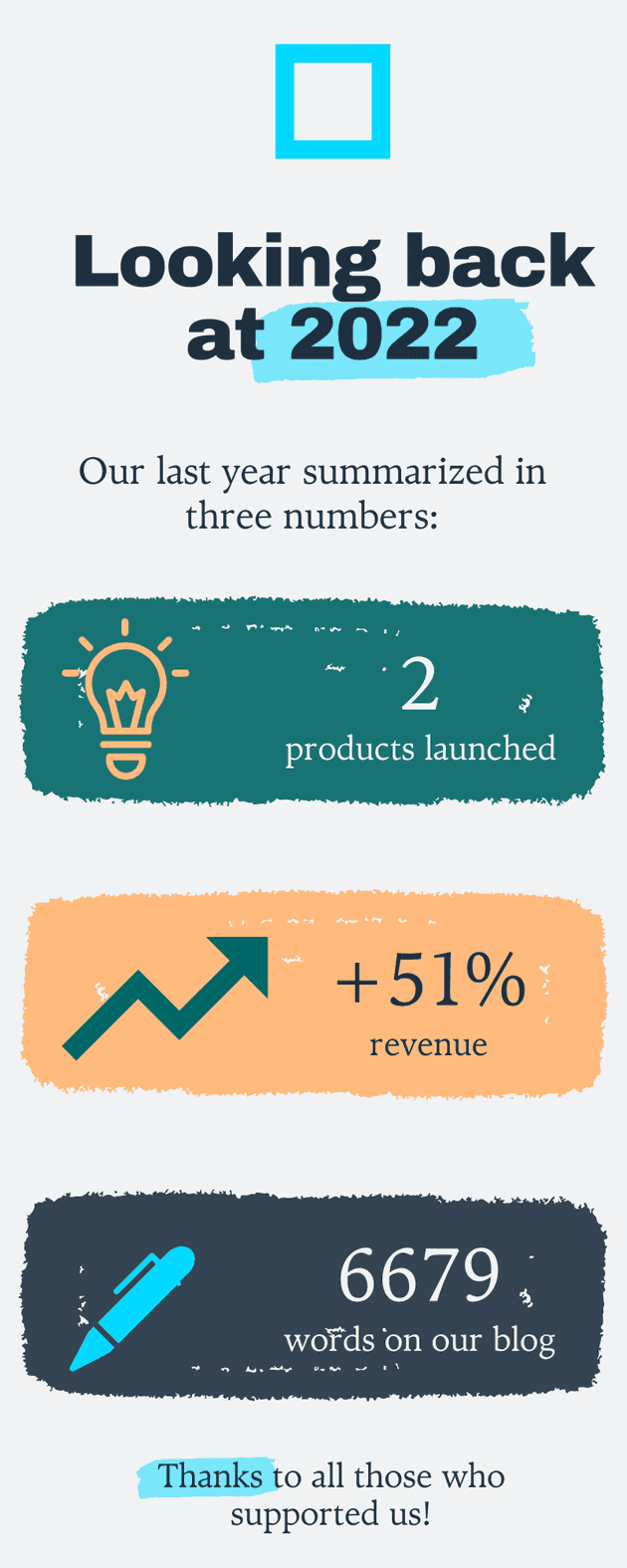 Product
The biggest flaw in executing our 2022 plan has been not sharing enough what we have developed. If you know the story behind Compiuta's name, you can feel the irony.
We have had paying customers for Connhex since the last months of 2021, but just kept postponing its public unveiling until May, 2022. Then we waited another couple of months to start promoting Connhex Control: apparently it takes us longer to create websites than products 😂
Jokes aside, we have been focusing a lot on extending Connhex: the upcoming months will make clear why we have been quiet.
Financials
Compiuta is a for-profit organization, so financials matter.
Some key facts and figures for this year include a 51% YoY revenue increase, together with a shift in the composition of our income - Connhex licenses now account for almost 20% of our revenue. We set out to build a sustainable company - so margins are important too. 2022 saw our costs increase: we relocated to new offices and invested in promoting Compiuta. All in all, our earnings have been similar to last year.
Promoting Compiuta
As usual, we could have done better in this area: resources are finite though, and we always prioritise product development and customer support over customer acquisition.
What follows is a breakdown of what we have been up to in 2022 to spread the word about Compiuta.
Trade shows
We attended an Italian trade show (ExpoSAVE), dealing with industrial automation, and an international one (Electronica), focused on electronics. We haven't been able to effectively translate our attendance into business opportunities, but they have proven to be useful learning experiences.
Social media
We deliberately try to focus all of our efforts on a single channel, LinkedIn. We are not hyper-focused on optimizing for some metric, but just post what we would be interested in reading - together with the occasional shameless plug for Compiuta. In 2022 we published over 40 posts and more than doubled our followers count.
Blogging
Our blog was launched this year - we sustained an average pace of one article per month. This translates to 12 blog posts, totaling 6679 words.
💡 If your blogging leverages Markdown files, getting a word count is immediate. Just navigate to the root of your project and run:

find . -iname "\*.md" | xargs pandoc --strip-comments -t plain | wc -w
2023
I'm often accused of writing too much, so I'm not going to share our plans for 2023 here: just rest assured that we will be doubling down on Connhex once more.
Thanks if you have been following along and see you next year!